Testimonials
The Horse with a Will to Live. . .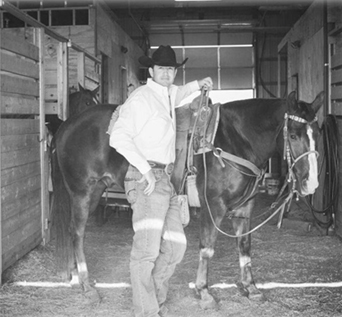 In speaking with Barry recently, we started reminiscing about how we met. It all started in 2006. Barry Burk and his horse, Deuce, were at the Cheyenne Frontier Days. During warm up Barry noticed Deuce was quivering and couldn't seem to get any air. He had the horse checked by the vet and ended up leaving Deuce in Wyoming for a week. After that week, the horse was hauled to Colorado State University and was there approximately 6 weeks. He was diagnosed with Pleuritis and he had 100% infection in both lungs. There were 2 tubes in the right lung and 1 tube in the left to drain the fluid. He had a temperature of 105 for a week and lost 300 lbs during the time he was at Colorado State. Barry was told that he had a 25% chance to live and it would be a year before he could be ridden.
We received the first call on September 1st and advised Barry to go get his horse and start him on MBC. On September 10th we made a few changes to his feed and started Deuce on a heavy load-up of Medicine Bag Complete. On October 12th Barry let us know that he was vet checked around the 1st of October and there was a little fluid left on the lungs, but nothing to worry about. By the middle of October he had gained 150 lbs and was turned out. He ran 500 feet out, turned around and ran 500 back. He ran out and back 5 times totaling 5000 feet and hardly blew.
By October 30th Deuce had put on 200 lbs. On November 6th Barry was getting his horse ready to go to the Prairie Circuit Finals at the Lazy E Arena in Guthrie, Oklahoma. Barry and Deuce ended their ride by placing 3rd in Calf Roping!
Barry and Deuce came back strong in 2007 winning the Ariat Playoffs in Omaha, Nebraska with a time of 7.0. Even though they missed out on the NFR late in the season due to an injury, they still finished in the top 20.
How's that for a horse who had a 25% chance to live and wasn't supposed to even be ridden for a year and a cowboy who never gave up on his horse?
Deuce is now 18 years old and still going strong. Thanks again, Barry, for refreshing our memory of your ride with Deuce.
---
Thank you both so much!!!
In May I purchased a solid bred paint mare with the intention of showing at our local shows. I had seen her the previous fall at a show and she was tremendous! I brought her to my barn on a Sunday evening and on Monday morning took her to the stable where I planned to board her. When I rode her for the trainer, she detected that she seemed off but couldn't pinpoint which leg was lame. I took her to our vet and he determined that she had a torn suspensory ligament in her right front leg. He put her on a six month protocol of stall rest with thirty minutes of hand walking each day. On July 22 she apparently suffered some unknown head trauma and rapidly developed facial nerve paralysis on the left side of her face. Her ear and lip drooped but the worst thing was she couldn't blink and developed a corneal ulcer on her eye. We finally sewed her eye shut with a catheter inserted through the lid to administer medicine. I tried accupuncture and laser treatments on her to help with the paralysis with no results. I finally brought her home on September 4th. Doc sewed her eye shut at least three times as she kept rubbing the stitches out. We removed the catheter on September 10th and sewed the eye shut one last time. Doc recommended that it would probably be best to remove the eye but we didn't do it and I am so glad we didn't!
On September 29th I began a load-up of Medicine Bag Complete on her. She didn't always clean it up so I would moisten it with syrup and water. On October 15th I took her to my vet to see if he saw what I was thinking I saw. He looked at her and confirmed what I wasn't daring to hope. She definitely was moving her ear and blinking her eye!. He removed what was left of the stitches. Her eye was saved!
The first thing I did was call Drehne and Renina to tell them the great news. Drehne then mixed up another formula specific to nerve restoration which I gave her for thirty days. We also did sixty days of Ligdon, a formula for ligament and tendon repair. I believe that both of these added to her continued improvement.
She has spent the winter taking it easy. She has a nice stall and small pasture where she can just be a normal horse. I have continued the MBC protocol with a few small load-ups along. On February 4th I took her back to the vet for an ultrasound to check the suspensory ligament. There were no signs of an injury or scar tissue! He pronounced her sound! On February 19th I rode her for the first time since last May! I feel that her recovery has a great deal to do with MDC and I will continue to use it on both my horses.
Finally, I want to say a heartfelt thank you to Drehne and Renina. They were so helpful and truly concerned with my situation. They listened to lots of long phone calls from me and were very helpful and supportive!
Sincerely,
Linda Roberts
---
Answered Prayers
Our horse, Shiloh, became a member of the Braden family when he was five and is 24 years old and looks like an 8 year old today.
Colt Braden and Shiloh were a winning team from Oklahoma High School State Champions to the College National Champions.
Colts last year of college, however, we were afraid Shiloh was at the end of his career because of discomfort in his feet causing him to be crippled. We went from vet to vet with diagnosis from a bruised coffin bone to navicular. Our family was devastated. We tried different things for his relief, from ankle injections to isoxoprene and bute. No matter how much discomfort he had, he still gave 100% in the arena.
Colt passed Shiloh, now 14, down to his younger brother, Tanner, April 26, 2005 after his last college rodeo at Ft. Hays. The intent was to use him as a backup horse close to home for Tanner.
The battle with Shiloh being lame lasted a year before we heard about "Medicine Bag". We started feeding Medicine Bag to Shiloh and within a month – he was back with no painkillers at all.
Tanner hauled him to many Rope America and USTRC ropings the summer after starting Shiloh on Medicine Bag, winning about $40,000. The old master and Tanner began the Oklahoma High School rodeos where Shiloh helped him win State Champion.
At 17 years old, Shiloh returned to A-string carrying Colt to an average win at the Prairie Circuit Finals and later that year winning the Dodge Circuit Finals in Pocatello, Idaho. This allowed Colt to drive home in a new Dodge pickup.
He is now retired, which is well deserved, and is occasionally rode by grandbabies and fed treats.
WHAT A MIRACLE!
---
The Outhier family and Hezaneasybug - affectionately known as 'Short Go.'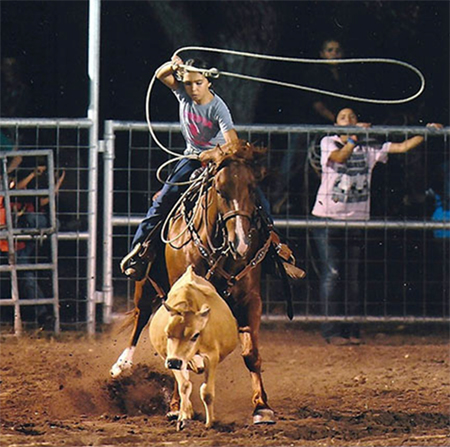 1996 begins the story of Short Go. He spent his first four years with owner, Milburn Outhier, world champion bareback rider and cowboy, who passed on his talent and passion for rodeo and horses to son Mike and daughters Lynnsi and Amy.
In 2000, Milburn gave Short Go to his oldest daughter, Lynnsi. Lynnsi only competed one year in High School Rodeo. Even though she started late, she still ended the season by placing 2nd in Poles in Oklahoma. She qualified for the National High School Rodeo Finals that year, but had to scratch due to Short Go showing signs of colic.
From 2004 – 2008, Lynnsi loaned Short Go to her younger sister, Amy. Amy competed all 4 years of high school winning the Oklahoma High School Rodeo Finals in Poles twice and runner up 2 times. She made 4 trips to the High School National Finals Rodeo and placed in the top 6 all 4 years.
Lynnsi, back on board Short Go, won the long round and the shoot-out round in Poles at the Cowboy Publishing Timed Event Challenge in Fort Worth, Texas in 2011. Lynnsi returned again on Short Go in 2013 winning the long round and was runner up in the shoot-out.
By 2014 a third generation Outhier, Mike and Kristy Outhier's daughter, Madi, had been competing successfully on Short Go. Early this year, Madi carried on her Aunt Lynnsi's tradition by winning the Cowboy Publishing Timed Event Challenge in Poles. Madi is also this year's Texas Youth Rodeo Association's Sub Junior All-Around Cowgirl.
Beginning 8/1/2014 – 8/9/2014, Madi will be competing in the American Quarter Horse Youth Association World Finals in Oklahoma City, Oklahoma. She qualified in Barrels and Poles and will once again be aboard 19 year old Short Go.
Three generations and one horse - all champions!
This is NOT the end of the story. . . . How many more times will Hezaneasybug make the 'Short Go'?
---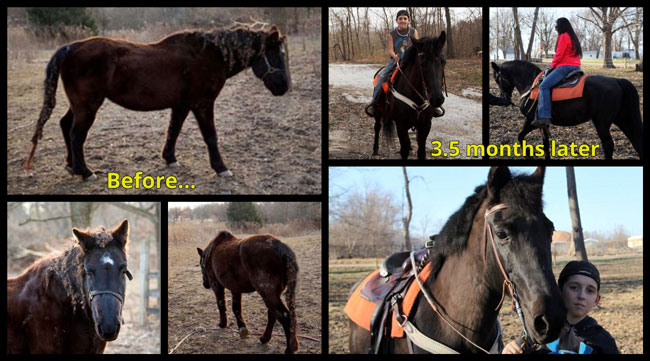 The first pics are of Star's condition when we went to look at her. Star, a Morgan mare into her upper twenties, was in a pasture by herself with no shelter in one of the coldest winters we've had. No heater in her water tank, with a small hole broken into the ice once a day. She got a little hay daily. Her owner had quit interacting with her five years prior when his wife passed away. Near retirement, her owner committed suicide after shooting his boss (who survived). Star was matted with burrs and even her ears had burr-balls in them. She was blinded in one eye a year ago. Her halter was cutting into her face; the family said they couldn't catch her to get it off. The fourth pic is also the day we went to look at her (she IS caught, but I had diced apples and carrot in my pocket and squatted so she would come up to me.) They said she wouldn't stand tied. She appeared substantial but actually had very long, thick fur covering a skeletal frame. Star had no muscle tone and no spirit left in her. She hung her head when she walked. She was wormed on January 1st when she was rescued by Dakota's Creek Stables in Danville, IL. She was also put on Medicine Bag Complete beginning that very day. This product worked so well with our other horse that we knew we needed to get Star on it. Star's teeth were floated and she was also put on a senior feed; also getting an apple and carrot each day, as well as love and brushing! The fifth and sixth pictures (*not shown) are of Star after being confined to a stall for 12 days during worming quarantine and finally being let out. It took six weeks from the day she was rescued to the day she would willingly walk into her stall without us having to hide and sneak up to shut the stall door once she entered! She loads, stands tied, gives her feet willingly and has given my grandchildren a new best friend. She goes around traffic and on trails like she's been doing it everyday. She has a reason to live and lift her head up, and the supplement is giving her the nutritional support to bring her back to wholeness both mentally and physically. If she only lives ONE year, it was so worth saving her! There's a new "star" in our pasture!
THANK YOU Medicine Bag Project!!!!
Vickie Slavik
Dakota's Creek Stables
Danville, IL
---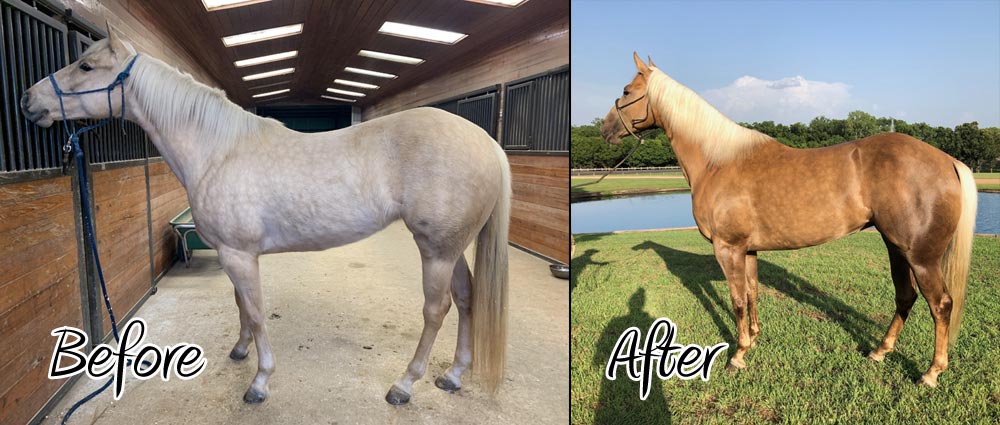 I am a MBC (Medicine Bag Complete) customer and recently became a distributor in February, 2020. I have seen a positive change in my whole program. Before the COVID-19 pandemic, we were attending events every weekend and noticed a huge difference in our horse's recovery when running them hard. They also handled travelling much better. They just stayed fresh.
Overall, we notice more vitality, improved performance, beautiful color (not fading in the summer which is very important to me); they keep weight on and have better muscle tone. I've recently added MBC to our brood mares and foals. The babies look great and the mares have the shiniest coats and shed off quicker.
I would also like to mention a new horse to our barn. We bought Candy (a 4 year old mare) in January. Candy had not been ridden in a year. Before we got her, she tied up at her first futurity. She had a very pale color, was scraggly, skinny, and out of shape. We started her on the mineral with a load up in the beginning due to her obvious need for extra nutrition. She now feels great, looks beautiful and is running like a champion. We couldn't be happier.
Kim Matthews
L&W Feed Store
Arkansas

---
I would never have believed it was possible to turn this horse around. Moonbar was severely injured in the spring of 2000. After 3-1/2 years, there was only partial recovery. Medicine Bag Project stepped in and after four (4) months he was able to run barrels wide open with no sign of lameness
J.D. Cornett from Alabama
Product: MBC Equine Formula
---
Horse had been lame for over a year. This horse had ligament and tendon issues for several years which included stall rest. We put the horse on 60 days of Ligdon formula. At 75 days the horse was back roping part time and was roping full time at 90 days.
Terry from Oklahoma
Product: Ligdon
---
Horse had a slight tear on the deep digital flexor tendon. The horse was still performing, but showed signs of periodic lameness. In the peak of the season, the horse was used a lot and it would need periodic rest. The horse started the formula while still performing. Half way through the regimen, the horse was doing so well they decided no more was needed. Frequent updates showed the horse maintained its recovery.
Chuck from Oklahoma
Product: Ligdon
---
Horse one had moderately arthritic hock and severe tendon tear. The horse had been off and on lame for over a year and they were considering selling the mare. Thirty days after starting the Ligdon formula the horse was showing no signs of lameness. It was decided to put the mare on a maintenance dose for thirty more days. At 60 days the horse was put back into training.
John from Ohio
Product: Ligdon
---
Horse two was a very severe case. He was purchased as a test. After John saw the results of Ligdon on several horses he decided to purchase a horse that was completely lame. This horse could barely walk and at times could not move at all. It was in constant pain. The horse was riddled with arthritis, severe inflammation of the hocks and knee joints, ligament and tendon damage in several locations and major hoof issues. Two weeks into the program (Ligdon and MBC) the horse was moving more freely and the inflammation had reduced by 50-60%. The horse began to walk more frequently without severe pain. At 30 days x-rays showed the arthritis had been reduced by 70-75%. There was also a marked improvement to the ligaments and tendons. At 60 days the horse showed an 80% reduction in lameness and the associated pain. The ligaments and tendons appeared to be healed. The arthritis had improved 85-90%.
John from Ohio
Product: Ligdon
---
Since I put "Abundaprince" on MBC his overall health, speed, and disposition has improved greatly. He won his last 5 of 6 starts and took his lifetime record of 1:57! The most amazing thing about MBC is I was told I would never have to worm him. To be sure, I took a fecal sample (Nov. 2008), and sure enough it was totally negative! He has not been wormed in over six months! That's great, especially in Florida.
John Filipelli from Florida
Product: MBC Equine Formula
---
Colt Braden and Shiloh were a winning team from Oklahoma HS State Champions to the College National Champions. Then, Shiloh became crippled. We went from vet to vet with diagnoses from a bruised coffin bone to navicular. We tried different things, but none worked. Then our prayers were answered when we heard about "Complete." Within a month, Shiloh was back with no painkillers at all. Tanner (Colt's younger brother) won $15,000.00 at Rope America and USTRC roping this summer (2004). Shiloh has continued to work fulltime for the last four years and kept us in the winners circle. Thank you again for this wonderful product. I am telling the world so more horses can fulfill their potential."
Bucky Braden from Oklahoma
Product: MBC Equine Formula
---
In July 2006 Barry and his $125,000 horse were at a rodeo in Wyoming when the horse went down. It was hauled to Colorado State University where over the next six weeks, it lost over 300 pounds. The prognosis was the horse had a 25% chance to live and if he did live, it would be a year before Barry could ever ride his horse again. We received the call in the beginning of September and advised him to go get his horse. We started the horse on the MBC program 16 September 2006. The horse was entered in the Prairie Circuit finals the first weekend in November, 2006. He is still doing great.
Barry B from Oklahoma
Product: MBC Equine Formula
---
I had a foal crop in 2006 and one of the young colts broke his leg. The break healed and the horse was apparently fine, however every time the horse would play with the other colts he would limp for hours afterward. When they were coming two year olds (2008), I put the horse on MBC and within 30 days the horse never took another lame step no matter how hard he played.
D. May from Missouri
Product: MBC Equine Formula
---
I had a horse x-rayed in late December 2007and diagnosed with a broken bone in the hoof mechanism. The bone had been broken for two months. The vet's suggestion was to put the horse down. I knew of no way to repair the damaged bone because of its location. We started the horse on MBC the first week in January 2008 Shortly into the program the horse was no longer limping. The horse was taken to the vet in March and x-rayed again. It showed no signs of ever being broke.
Kenny H. from Missouri
Product: MBC Equine Formula
---
Had a 4 year old cutting horse that crippled up on the back end. After numerous attempts to heal the horse it didn't get healed. The vets did not know what the problem was. The horse was put on MBC and at three weeks the horse that had not ran for 6 months was now out moving and running across the field. This product completely turned the horse around.
R. Tackitt from Missouri
Product: MBC Equine Formula
---
Horse with a severely torn tendon and it had been lame for one year. The horse was started on the Lidgon formula and within a week they noticed improvement. At 30 days they started riding the horse again. At 60 days they were back to roping full time.
Lee from Colorado
Product: Ligdon
---
Luc was diagnosed with OCD at a well known vet facility. Surgery to remove the damaged tissue was their recommendation with the likely prognosis that Luc would be unable to do any performance work. We started the Medicine Bag regimen in March, 2004. Results were seen within a month. I decided in November, 2004 to have x-rays taken again. The infection is completely gone and the bone is growing back.
Gilda Owen from South Carolina
Product: MBC Equine Formula
---
Horse had a suspensory ligament that was torn completely in two. There was some minor tendon damage and severe arthritis in 3 hoof/hock areas. Recommendation was for the horse to have 6 mos – 1 year stall rest and a 35% chance the horse would ever race again. Key note – this horse was at Northfield Park which is the hardest harness track in the country. In 45 days, an x-ray was performed and an ultrasound was done. They discovered 75% of the arthritis/inflammation was gone. The suspensory ligament had reattached itself but was still spongy. Fifteen days later, the horse went back in training.
Frank from Ohio
Product: Ligdon
---
Rancher in western Oklahoma whose young daughter races barrels. They had a 21 year old mare that was becoming more and more lame. They put the horse on the MBC program and they started seeing an improvement immediately. They brought in another barrel horse and made this other mare their pole bending horse. Today, a year later, that 21 year old is now 22 and running the fastest times of its life. This horse is now bred and had not cycled for years.
Trent Wilson from Oklahoma
Product: MBC Equine Formula
---
(1) horse had arthritis in both front hocks and the left suspensory ligament was completely severed. At 30 days, they x-rayed and did an ultrasound, the arthritis was 75 percent gone and the ligament had reattached itself, but was still punky. At 60 days, they re-x-rayed and the horse was given a good bill of health and put back in training. (2) We received a harness horse that had ligament and tendon problems that were so severe that the left fetlock was on the ground. 45 days after starting on our program, we had the fetlock back at a 1 – 1 ratio with the right. Vet check at 60 days showed the horse was healed.
F. Regan from Ohio
Product: MBC Equine Formula
---
A team roper from Boulder, CO whose horse was dealing with a torn tendon and was quite lame got on the MBC program and was back to roping in 45 days on the horse.
B. Marshall from Colorado
Product: MBC Equine Formula
---
Horse had been lame for some time and consistently getting worse. Tried many different remedial measures to fix the horse or at least alleviate the pain; all to no avail. Finally hauled horse to the vet where it was diagnosed with arthritis in the left hock. Horse started showing improvement almost immediately and within 30 days, he was no longer taking a lame step.
B. Whannel from Oklahoma
Product: MBC Equine Formula
---
First horse had a bone chip that was causing severe pain for the horse, creating lameness. Second horse was a 10 year old cribber sore in the back and dropped the shoulder when running barrels. The third horse was 14 year old navicular and tenderness in the right front shoulder. All three horses began to show real improvement from 10 days to 3 weeks after being on the MBC. Eventually all horses were completely healed.
T. Phillips from Oklahoma
Product: MBC Equine Formula
---
Had a 7 year old performance horse that had stomach problems for years. This problem cleared up within the first 30 days after starting on the MBC.
L. Elder from Oklahoma
Product: MBC Equine Formula
---
An 18 year old gelding owned for 3 years. When we got a call, the horse had had a bowed tendon for 3 months. Horse started on MBC and was back performing in 45 days.
H. Pruitt from Kansas
Product: MBC Equine Formula
---
Horse was diagnosed with reactive air. We started the horse on MBC in November '07 and by the first of '08 all symptoms had disappeared.
P. Thompson from Kansas
Product: MBC Equine Formula
---
Love this stuff!! Keeps my 24 yr old warmblood cross healthy, happy, and flexible. I was pleasantly surprised to see it is now in a bag & not the bucket, I always struggled to get that darn thing opened.
I highly recommend this product.
Michele M. from California
Product: MBC Equine Formula
---
Sylvester is a 20 year old Paint. He had an accident as a yearling that ultimately left him with severe high ringbone on the right hind. He progressed to the point where we could not put any weight on that leg. After a couple of rounds of an herbal remedy (from the Medicine Bag Project) combined with a massive dose (8 oz./day) of MBC he is today completely lameness free and his coat is gorgeous to boot.
Claudia and Robin Garner from South Carolina
Product: MBC Equine Formula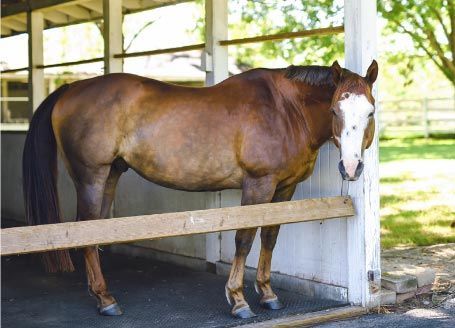 ---
I had been doing research on natural equine supplements for my boy 'Sunny' for weeks and then finally a friend (living in England) told me about a 'great' supplement she had been giving her horses and then shared with me on how well her horses were doing since on 'Medicine Bag Complete'.
I have had Sunny on MBC for just over one year and wish I had started sooner.
Sunny's hooves no longer chip, his feet no longer get sore, he's got dapples from neck to hind end and he is maintaining his weight. Once we went through the loading doses with MBC, one bag will last about 12 months. Give this a try... it's the best thing you can do for your horses health.
Desiree from Montville, Ohio
Product: MBC Equine Formula
---
One of the top two dressage horse farms in the country, their horses have been on MBC since 2004. They have seen an improvement in the overall health, elasticity in their tendons and ligaments, fluidity of joint movement, ease in foaling, healthier foal crop, the mare's milk quality being a key, higher conception rate and overall improvement in the herd.
Valhalla Farms from Florida
Product: MBC Equine Formula
---
Native Healing Cream Testimonials
"I used the cream on both my sons who suffered from eczema. The skin was breaking, bleeding, and peeling down through quite a few layers. This product completely healed the eczema in just a few days. My daughter got a burn, we applied the cream, and her pain went away within a few seconds. It is also the best product I've ever used for sunburns."
~ Richard; Tennessee
---
"I can't say enough about this cream! It's great stuff. I've used it now for about 5 years. I found the cream soothes and hydrates my skin with lasting effects. I love the feel of my skin now. I've spent years working and playing in the harsh sun. I noticed after a few weeks that the skin on my neck was becoming smoother and actually looked like new skin. This cream soothes and heals burns too. It takes the burn out very quickly and heals without leaving scars. It also healed my dry and cracked heels. You'll be very happy with the results!"
~ S. Raney; Birch Tree, MO
---
"I love the cream and don't plan on ever being without it. It has improved my skin greatly and reduced my pores. My fine lines are gone, and my cracked and hard heels are gone. I am so impressed with the product."
~ Barbara; Canyon Lake, TX
---
"My granddaughter has a feeding tube, and her skin is easily irritated due to the leakage of stomach acid. Recently, it had deteriorated to the point that even her doctor prescribed creams were not working – the site was very painful, reddened, and even bleeding in places. After only one application of the Native Healing Cream, the redness/bleeding was gone, and she had no more pain, and all irritation resolved within 2 days. I was truly amazed at how quickly and effectively this cream worked."
~ Lynda B.; Newark, OH
---
"I got a terrible sunburn from a tanning bed which covered most of my body. I tried everything! I was in pain and couldn't sleep for 3 days. I used Native Healing Cream and felt better within a few minutes and had a full night's sleep with no pain."
~ Mandy; West Plains, MO
---
"I am an outdoorsman. I have spent most of my time out in the weather. Being lighter skinned has its problems. When I sunburn, it is always painful and takes days for the burn to calm down. That changed when I started using Native Healing Cream. It takes out the burning feeling within a few minutes. I usually don't even peel if I put it on for several days after getting sun burned.
~ Darryl; California